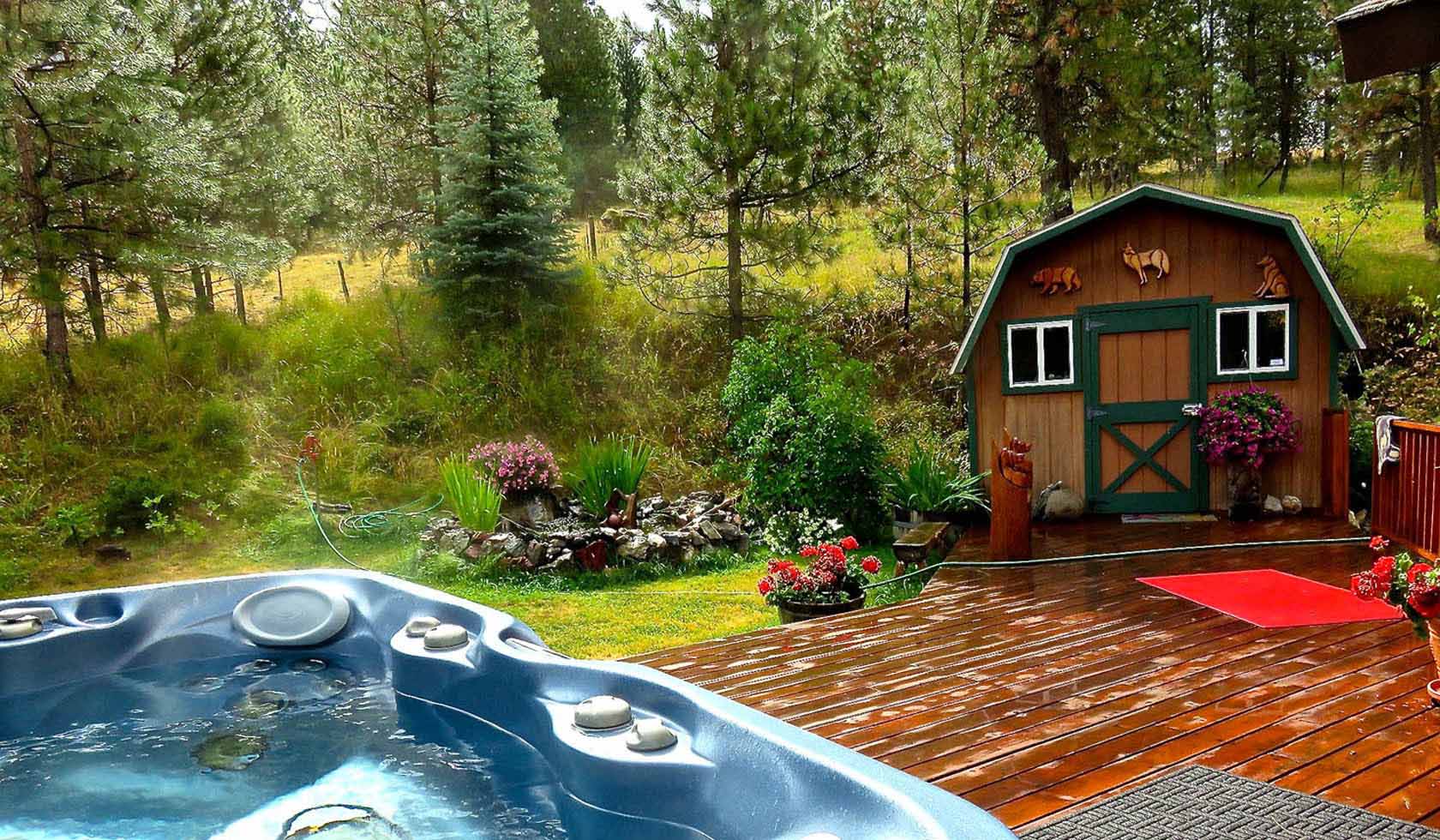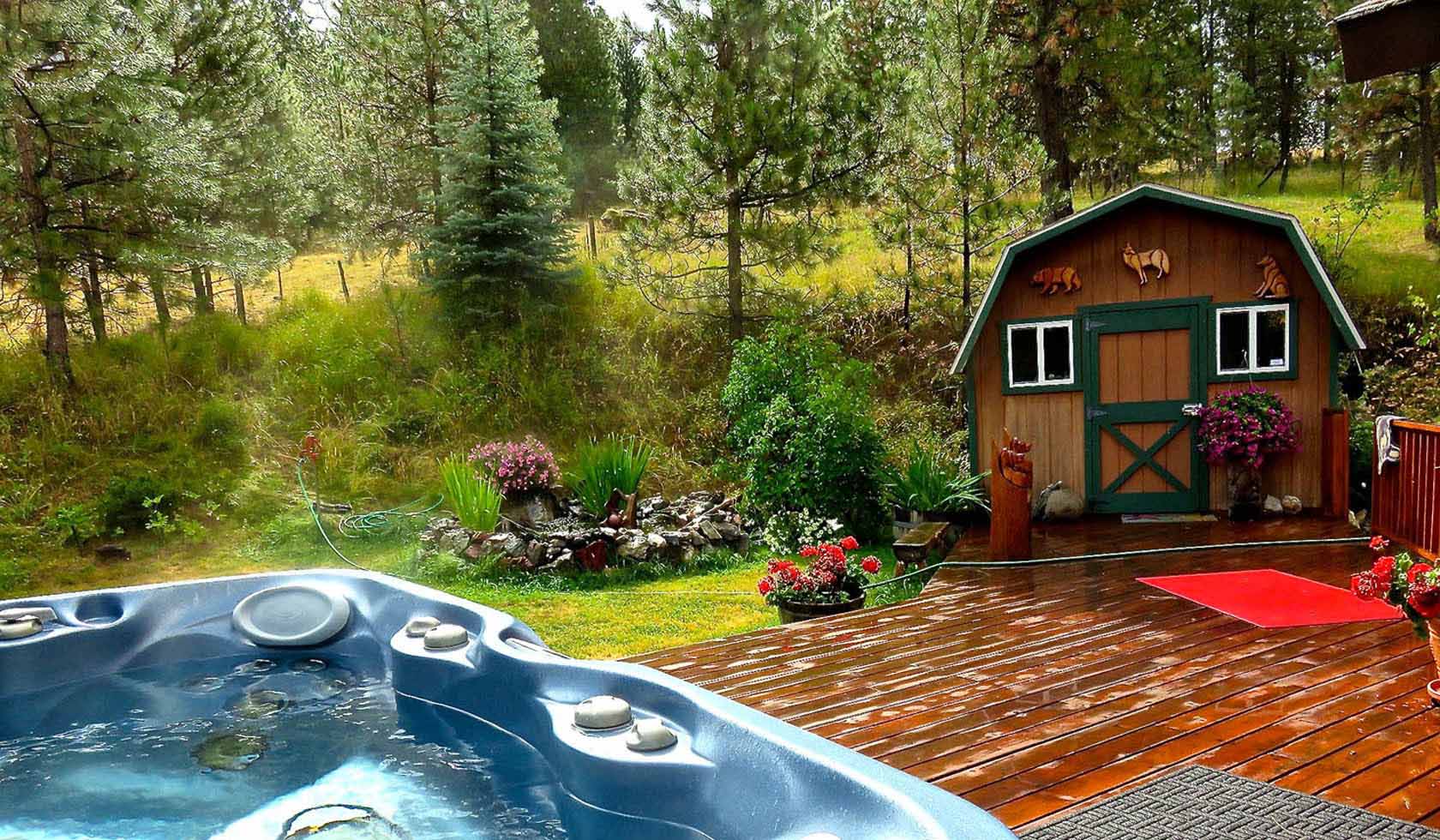 Bed And Breakfast
Bear Spirit Lodge B&B
Website
http://www.bearspiritlodge.com
Email
aharwood@blackfoot.net
Phone
406-745-3089

Overview
Service & Activities
Overview
Service & Activities
About
Relax with expansive views of the sky and stars in the outdoor hot tub. Rejuvenate through a relaxing time at Bear Spirit Lodge. Come experience the peace, privacy and the beauty of the majestic Mission Mountains near the village of St. Ignatius. Share the 2-story cedar home, birds, berries and bears, as well as humor and stories with the host, Ann, a teacher and global traveler to over 30 countries and 50 U.S. states. Just 5 miles east of Highway 93 North, and nestled in the Missions on 10 secluded acres, you can relax in a setting of tranquility and awesome beauty of Montana's own version of the Himalayan Mountains. Nature is abundant, the flowers and rainbows so colorful, that you may even want to take a nature hike. The interior of the Lodge is decorated with many interesting pieces of art and folk culture from around the world in a comfortable, welcoming setting. Enjoy a full breakfast accented by huckleberries and your private 'Great Bear' bedroom or 'Sante Fe' decor bedroom with private bathrooms. Located on the Salish Kootenai Indian Reservation, the Bear Spirit Lodge is right in the middle of everything and central to Missoula, the National Bison Range, Flathead Lake and Glacier Park. For those of you who are interested in cultural experiences as well as nature, Bear Spirit Lodge is part of the multi-cultural community that has developed over the last few years in Mission Valley. We are close to the famous 120-year-old St. Ignatius Catholic Mission Church, the Garden of 1,000 Buddha's in Arlee, and the nearby Amish community. You can taste food from the Amish grocery store only a couple of miles away from the Lodge. The setting is ideal for a small wedding, a getaway from the stresses of the big city, or just to look through your binoculars at the red-tailed hawks and bald eagles flying overhead. Come see us soon! We are open year round, even during the beautiful 'snow falling on pines' season. The perfect getaway awaits you at Bear Spirit Lodge!
Contact
MAILING ADDRESS
PO Box 609
St Ignatius, MT 59865
Details
PAYMENT METHODS
Cash, Master Card, Personal Check (In State), Personal Check (Out Of State), Travelers Checks, Visa
RESERVATIONS
Late Cancellation Fee, Reservations Accepted, Reservations Recommended
SPECIAL DIRECTIONS
Bear Spirit Lodge B&B is located 5 miles, about 10 minutes, east of the village of St. Ignatius in the foothills of the Mission Mountains at 38712 St. Mary's Lake Road and .6 mile into the forest.
SERVICES
Books
Breakfast
Corporate Rate
Dvd
Full Breakfast Included
Gift Shop
Hot Breakfast
Hot Tub
Internet Access Wireless
Non-Smoking
Non-Smoking Rooms
Parking
Spa
ACTIVITIES
Bird Watching
Day Tour
Hiking
Nature
Photography
Walking
Weddings
Wildlife Viewing
See what's nearby
Filter:
Show All
Where To Stay
Things To Do
Food And Drink