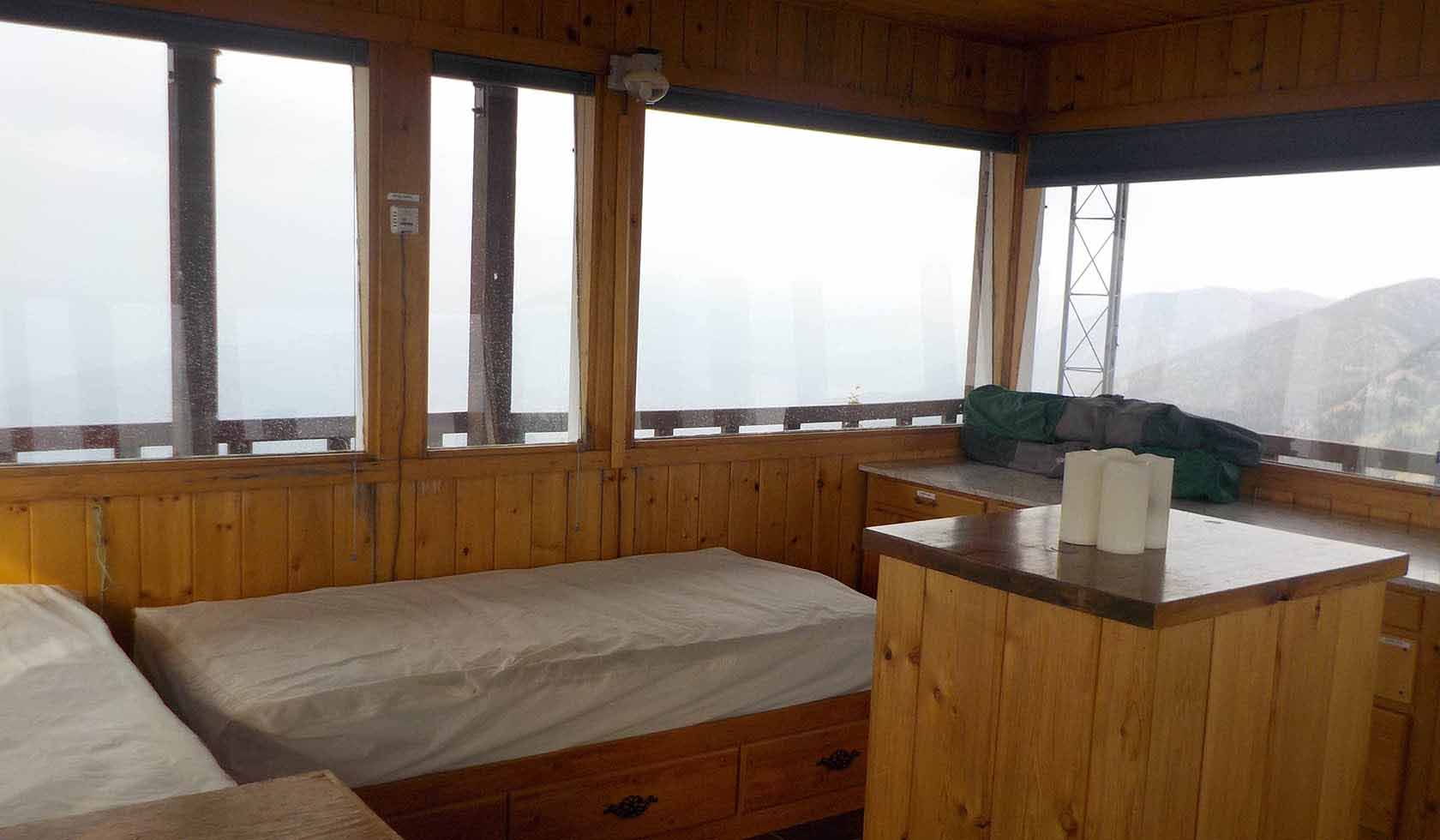 Cabin
Werner Peak Lookout
Overview
Service & Activities
Overview
Service & Activities
About
Sitting at an elevation of 6,960 feet, approximately 23 miles north of Whitefish, MT. Attractions at the site include picturesque views of the Whitefish Mountain Range, Glacier National Park and Flathead Valley. The Ralph Thayer Memorial Trail runs next to the lookout and is part of a system of trails that extends from Werner Peak to Diamond Peak and Red Meadow Lake. We can accommodate up to 4 people with two single beds and two cots and outhouse. Visitors must supply their own water as none is available on site. Due to steep terrain: NO renting to groups with children under the age of 10. Well behaved pets are allowed. Cost: $60.00 per night plus Bed Tax. Reservations for the up-coming season start the first business day after January 1 by calling the MT DNRC at 406-881-2371: M-F 8:00am and 4:30pm.
Contact
MAILING ADDRESS
PO Box 164
Olney, MT 59927
Details
SEASON
July 1-July 31, and September 1 – October 1
HOURS
Reservations taken (starting first business day of January) Mon.-Fri. 8:00am-4:30pm
PAYMENT METHODS
American Express, Cash, Discover, Master Card, Personal Check (In State), Personal Check (Out Of State), Travelers Checks, Visa
RESERVATIONS
Reservations Accepted, Reservations Required
SPECIAL DIRECTIONS
From Olney: Across from the Olney turnoff on Highway 93, take Upper Whitefish Road to the intersection of Lower Whitefish Road (9 miles). Go south on Lower Whitefish Road to the Werner Road junction (about 2 miles). Turn left on Werner Road which will take you to the lookout (approximately 6 miles). From Whitefish: Drive up the east side of Whitefish Lake via East Lakeshore Road. This road will junction with Lower Whitefish Road at approximately 8 miles. Proceed on the Lower Whitefish Road until you reach the Werner Road junction (another 8.8 miles). Turn right on Werner Road which will take you to the lookout (approximately 6 miles).
SERVICES
Kitchen
Non-Smoking
Pets Allowed
Refrigerator
ACTIVITIES
Bicycling
Bird Watching
Hiking
Nature
Photography
Walking
Wildlife Viewing
See what's nearby
Filter:
Show All
Where To Stay
Things To Do
Food And Drink