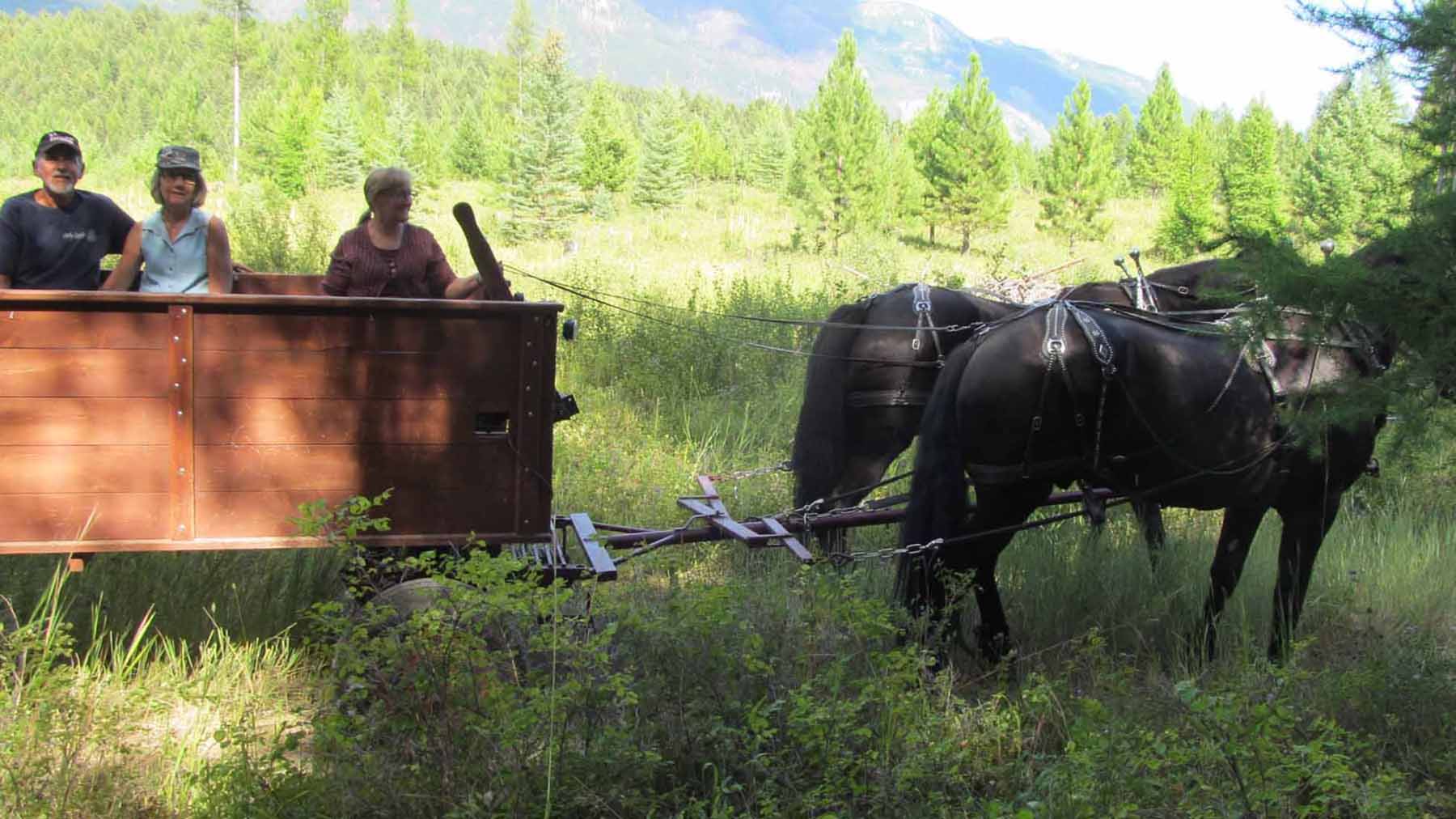 Recreation And Adventure Guide
Cripple Creek Horse Ranch
Address

1519 Trego Road
Trego, MT 59934
View on Map
TripAdvisor
Own or manage this business?
Overview
Service & Activities
Overview
Service & Activities
About
Sleigh Rides: We will take you back to the times of horse-drawn traveling. Bring your cameras for lasting memories! Our red sleigh sliding quietly through the snow, with the action of horses pulling and the jingle of bells is a great experience for all ages. There is always excitement about the scenery and wildlife on the way. A need for cameras! We offer a three-course meal at our stop off by the cozy canvas cabin. You may opt to just have refreshments at the campsite with a warm fire pit to welcome you. The cozy canvas cabin is a worm for the dinner, set with a table and an old wood cookstove to take you back in time at the campsite. Chuck Wagon Rides: Riding in a twelve passenger wagon is an experience of traveling like the old-timers used to do when they first came to this country. A horse-drawn ride is a quiet way to enjoy the time with family and friends as you experience the Montana Forest. Enjoy a dinner outing you will never forget! We will also come to your event: birthday parties, anniversary, group gatherings, employee surprises, parades, church gatherings, etc. You can watch us hitch the horses. Bring your elderly friends and family for that connection of the past. Dinners: A three-course meal of Babyback ribs, veggies, and salad, with a dessert of the day. We always have coffee, hot chocolate and the delicious hot cider. You might find a homemade dinner roll or cinnamon roll on your plate! The perfect setting for romance, your anniversary, birthday, or maybe even a proposal!
Contact
MAILING ADDRESS
PO Box 556
Trego, MT 59934
Details
HOURS
8:00 am. to 8:00 pm.
PAYMENT METHODS
American Express, Cash, Discover, Master Card, Personal Check (In State), Visa
RESERVATIONS
Group Reservations Required, Late Cancellation Fee, Reservations Recommended, Reservations Required
DISCOUNTS
Child Discount, Off Season
SPECIAL DIRECTIONS
1519 Trego RD, Trego MT - 37 min. north of Whitefish Mt, 163-mile marker on hwy93 to Trego RD, one mile the Cripple Creek Horse Ranch sign.
SERVICES
Dinner
Guide
Handicapped Accessible
Lunch
Public Restroom
Reservation Service
Visitor Service
ACTIVITIES
Carriage Ride
Horseshoes
Natural History
Photography
Sightseeing
Sledding
Sleigh Ride
Wildlife Viewing
Winter Sport
See what's nearby
Filter:
Show All
Where To Stay
Things To Do
Food And Drink