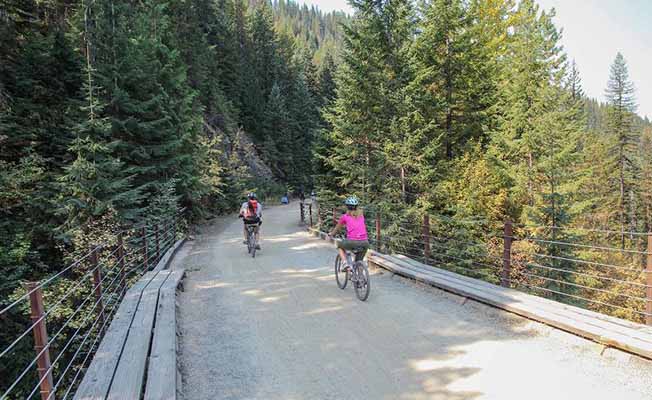 Trail
Route of the Hiawatha Scenic Bike Trail
Overview
Service & Activities
Overview
Service & Activities
About
This portion of the Olympian Hiawatha route has been called one of the most breathtaking scenic stretches of railroad in the country. The "Crown Jewel" of Rail-to-Trail mountain bicycle trails is operated by Lookout Pass Ski Area, which is next to I-90 at the Idaho/Montana state line, 12 miles east of historic Wallace, Idaho. The Hiawatha Scenic Bike Trail winds through 10 Tunnels and across 7 sky-high steel RR Trestles (Bridges). This 15-mile route crosses the rugged Bitterroot Mountains between Montana and Idaho. The Route of the Hiawatha is best known for the long, dark St. Paul Pass, or Taft Tunnel, which burrows for 1.66 miles under the Idaho/Montana state line. Please visit us on our website for safety and equipment information! Learn in perfect detail about this breathtaking ride!
Contact
MAILING ADDRESS
PO Box 108
Wallace, ID 83873
Details
SEASON
May 26 - Sept. 17, 2023 Check for exact dates on our website
HOURS
Daily: 8:30am - 5:00pm the trail is open. Please start your ride between 8:30am and 1:30pm so you make the shuttle bus back up from Pearson the end of the trail
DISCOUNTS
Child Discount, Group Discount, Off Season
SPECIAL DIRECTIONS
Take I 90 to Exit 0 (Lookout Pass Ski Area on the ID-MT Line) as this is where we sell tickets, give you a trail map of the trail and directions, issue rental bikes, have a gift shop and can provide Sack lunches or snacks. The start of the Hiawatha trail is located 5 more miles down I 90 East to exit 5 (Taft, MT) then 2 miles up Forest Service Route 506 to the East Portal Parking Area.
SERVICES
Bicycle Rental
Bike Campsite
Interpretive Display
Parking
Public Restroom
Trail
ACTIVITIES
Childrens Activities
Hiking
History
Mountain Biking
Nature
Outdoor Activity
Photography
Wildlife Viewing
See what's nearby
Filter:
Show All
Where To Stay
Things To Do
Food And Drink