Total Distance
380 miles
Recommended Length
5 Days
Experiences

Skiing & Snowboarding

Winter Activities

National Park Area

Unique Lodging
Trip Details
A wide range of winter experiences in Montana can diversify any ski trip, but this itinerary is for the hardcore powder purists – those looking to ski or board without distraction on this five-day expedition. Sign on for this adventure and you'll discover some truly breathtaking runs in Glacier National Park and at Whitefish, Turner, and Blacktail Mountains.
The Route: Kalispell > U.S. 2 > Essex > U.S. 2 > Glacier National Park > U.S. 2 > U.S. 93 > Whitefish > U.S. 93 > U.S. 2 > Libby > Pipe Creek Road > Libby > U.S. 2 > U.S. 93 > Blacktail Mountain Road > U.S. 93 > Kalispell
Total Distance: approximately 380 miles
Note: This route begins and ends in Kalispell
Arrive into Glacier Park International Airport (FCA)
Day 1
Arrival
Arrive into Kalispell and head towards Essex for your stay at Izaak Walton Inn, located at the southern edge of Glacier National Park. Make reservations in advance with the inn's partner association, Glacier Adventure Guides, for an authentic backcountry ski experience in Glacier National Park. For dinner, stop by the Dining Car at the inn for a locally-sourced meal from the Flathead Valley.
Day 2
Ski Glacier National Park
Meet up with Glacier Adventure Guides and experience the freedom of backcountry skiing through the Crown of the Continent. For an advanced ski touring experience, inquire with the guides ahead of time about the different possibilities. No matter what your adventure, the wild and majestic backdrop of Glacier National Park will leave you inspired. At the end of the day, head to Whitefish and settle in for the night at Hidden Moose Lodge.
Day 3
Ski Whitefish Resort
Lay into the Hidden Moose Lodge's famous "Montana-Sized" breakfast before jumping on the snow bus to Whitefish Mountain Resort. With access to more than 3,000 acres from the central peak, the resort is known for its laid-back vibe, spectacular views of Glacier National Park and Flathead National Forest, variety of terrain and great snow. After your last run, return to Hidden Moose Lodge. Enjoy some good brew around the fireplace or grab a bite to eat in downtown Whitefish.
Day 4
Ski Turner Mountain
Nestled in Montana's northwestern corner, Turner Mountain is a two-and-a-half-hour drive from Whitefish. The atmosphere there, one marked by palpable, unbridled spirit, makes the trip well worth it. The volunteer-run, nonprofit ski area is the true definition of a hidden gem. With one chair lift and a summit elevation of 5,952 feet, the mountain is open Friday through Sunday only. With a motto of "steep, deep and cheap" what's not to love? For the night's accommodations, check out The Venture Inn in Libby.
Day 5
Ski Blacktail Mountain
For the final leg of your adventure, return to Kalispell via U.S. 2. Then continue onward to Blacktail Mountain off U.S. 93 for one last powder day. Surrounded by 1,000 acres of National Forest land, Blacktail's stunning views of Flathead Lake and unique "upside-down hill" before the first chair offer a fantastic way to close out one epic, powder-pounding pilgrimage. Back in Kalispell, Red Lion Hotel is a convenient option to catch some z's your last night on the road.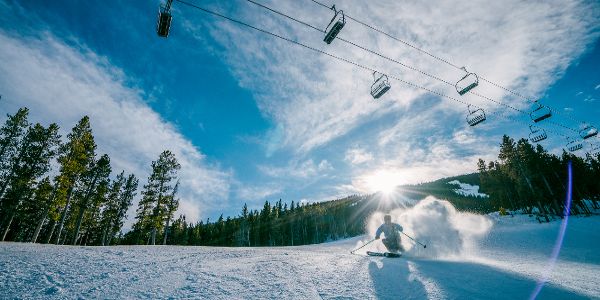 Find Ski Areas & Resorts
Whether seeking knee deep powder or a nice long groomer, Montana has a long list of skiing and snowboarding options - without the long lift lines. Stay at one of our resorts or choose a basecamp and explore several ski areas on your trip.
Explore