Total Distance
425 Miles
Recommended Length
5 Days
Experiences

Skiing & Snowboarding

Winter Activities

National Park Area
Trip Details
Kick off this five-day itinerary with some self-guided exploration of Missoula, Montana's second largest city. Then gear up to hit the slopes as you make your way from Lost Trail Powder Mountain to Maverick Mountain and finally to Big Sky. For a change of pace, take the final day to explore Yellowstone National Park in all its winter glory.
The Route: Missoula > U.S. 93 > Hamilton > U.S. 93 > Sula > MT-43 > Wisdom > MT-278 > Pioneer Mountains Scenic Byway > Maverick Mountain Road > Pioneer Mountains Scenic Byway > MT-43 > I-15 > I-90 > Belgrade > MT-85 > U.S. 191 > MT-64 > Big Sky > U.S. 191 > Yellowstone National Park
Total Distance: approximately 425 miles
Note: This route begins in Missoula and ends in Yellowstone National Park, but you can reverse the trip and start in Yellowstone.
Missoula – Yellowstone National Park: Arrive into Missoula International Airport (MSO)
Yellowstone National Park – Missoula: Arrive into Bozeman Yellowstone International Airport (BZN)
Day 1
Explore Missoula
Set off with an exploration of all that Missoula has to offer. Museums, dining, shopping – spend a cozy winter afternoon crisscrossing a cultural epicenter in Montana. Afterwards, head over to Bitterroot River Inn and Conference Center for a good night's rest before a full day of skiing. Take U.S. 93 South to Hamilton through the spectacular Bitterroot Valley. The dramatic views of the Bitterroot Range and canyons are worth it if you can make the drive before nightfall. Before turning in, check out local favorite, Bitter Root Brewing, in downtown Hamilton for a wide range of handcrafted ales and live music every Thursday and Saturday night.
Day 2
Ski Lost Trail Powder Mountain
For breakfast, try Coffee Cup Cafe on your way out of town. Then hit the road to Lost Trail Powder Mountain, which is open Thursday through Sunday only, so make sure to plan accordingly. As a family-owned ski area tucked away at the far end of the Bitterroot Valley, Lost Trail offers all the stoke with none of the rat race. Skiers here are more likely to figure eight their own tracks than fight for fresh ones. At the end of the day, make your way over to Elkhorn Hot Springs. Unwind with dinner and a relaxing dip.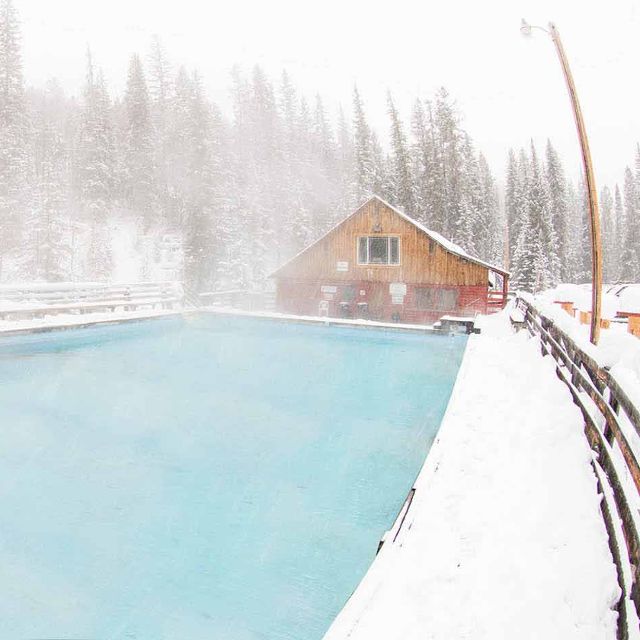 Day 3
Ski Maverick Mountain
After breakfast at Elkhorn head down the road towards Maverick Mountain. Maverick, just as its name implies, is an eccentric little ski area just off the beaten path. One of Montana's hidden gems, this mom-and-pop mountain is home to one chairlift and 2,000 feet of uncrowded trails (also open Thursday through Sunday only). Plan to head out in the early afternoon for the half-day drive to Big Sky. Spend the night in the heart of Big Sky Resort's Mountain Village at Huntley Lodge. Book yourself a treatment at Solace Spa and you won't be sorry.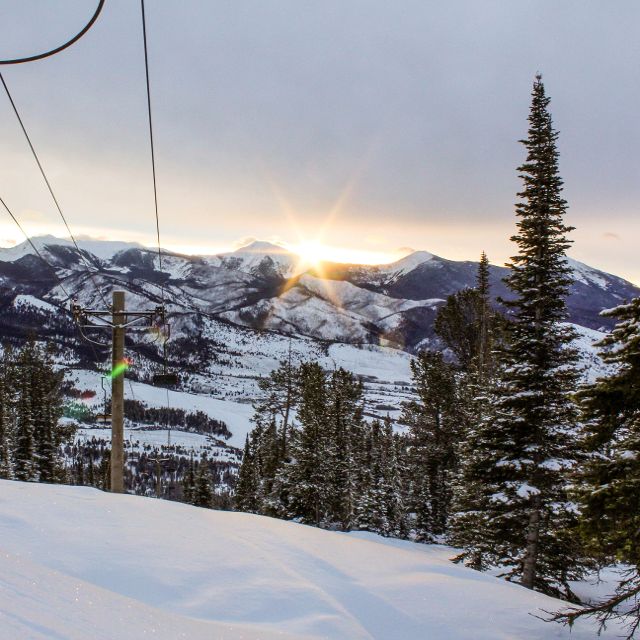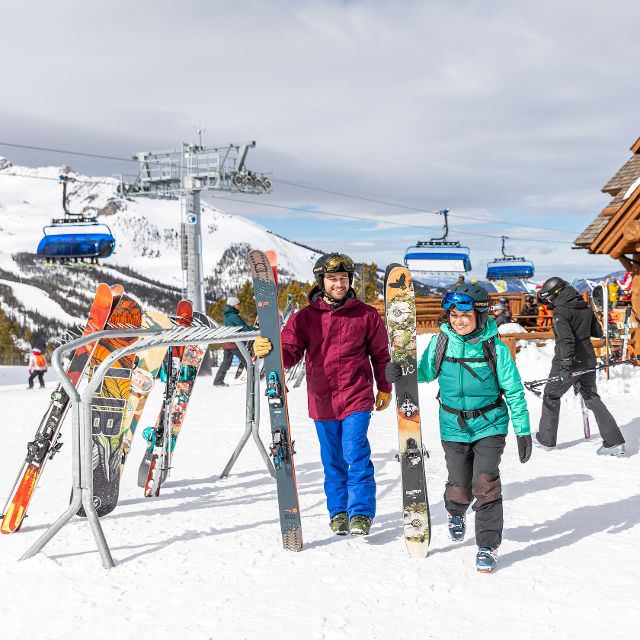 Day 4
Ski Big Sky
On your last full day of skiing, savor the convenience of rolling from bed to breakfast to the Explorer Lift, just steps from the Huntley Lodge. Let the day unfold from there and you'll see that Big Sky Resort truly is the Biggest Skiing in America. With 5,800 skiable acres and 4,350 vertical drops, it is possible here to experience world-class skiing with all the amenities and still feel like you have the mountain all to yourself. After last chair, make your way to Three Bear Lodge in West Yellowstone for the night.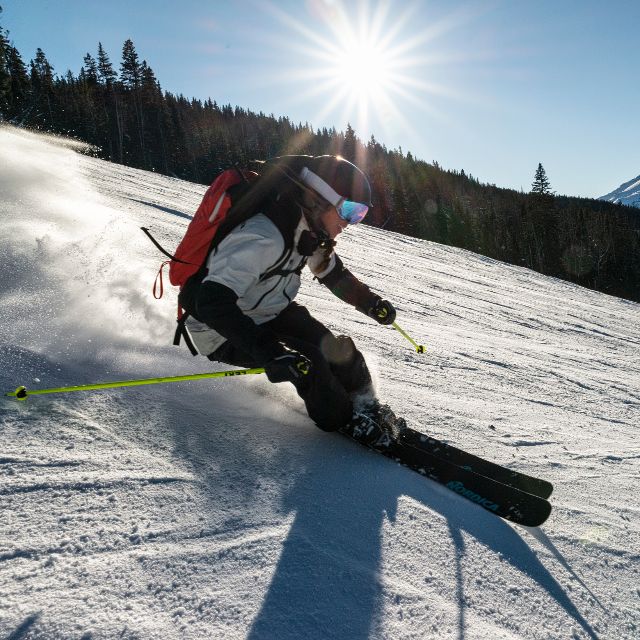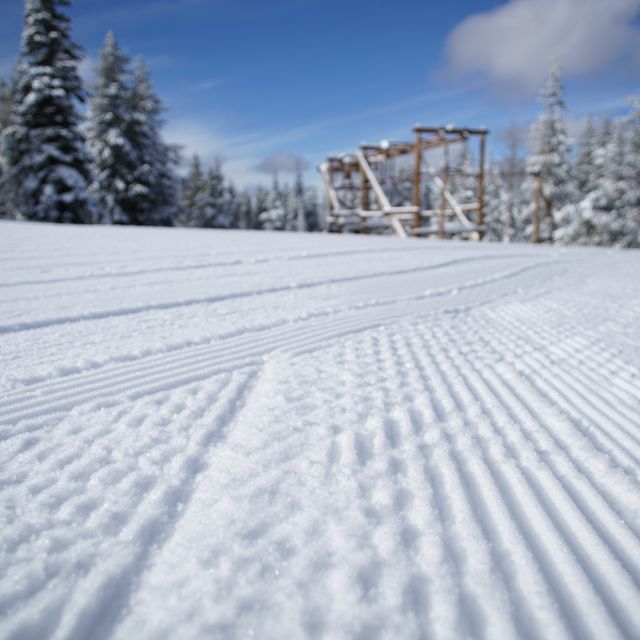 Day 5
Explore Yellowstone National Park
Cap off this winter adventure with a full day of guided exploration of Yellowstone National Park. Whether you're interested in seeing Old Faithful or the Grand Canyon of Yellowstone, backcountry snowshoeing or riding the trails on a snowmobile, you can customize your experience and make some unforgettable memories with the help of Yellowstone Tour & Travel. No matter which attractions you choose to highlight, the winter splendor of America's first park will leave a lasting impression long after the trip is over.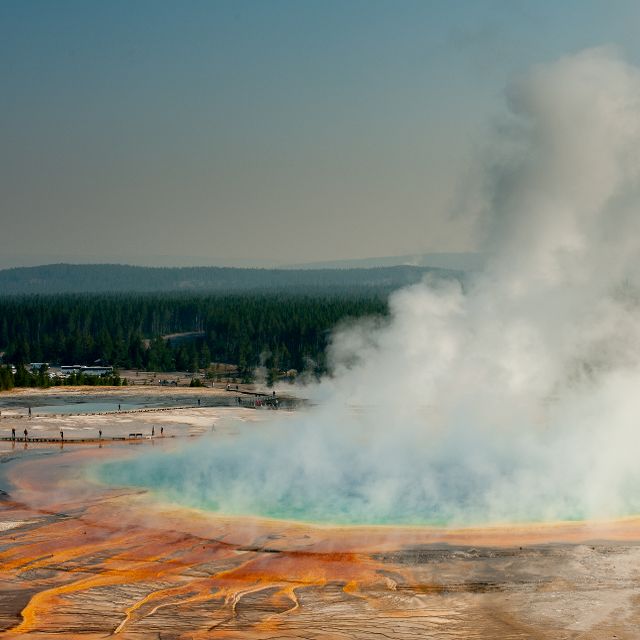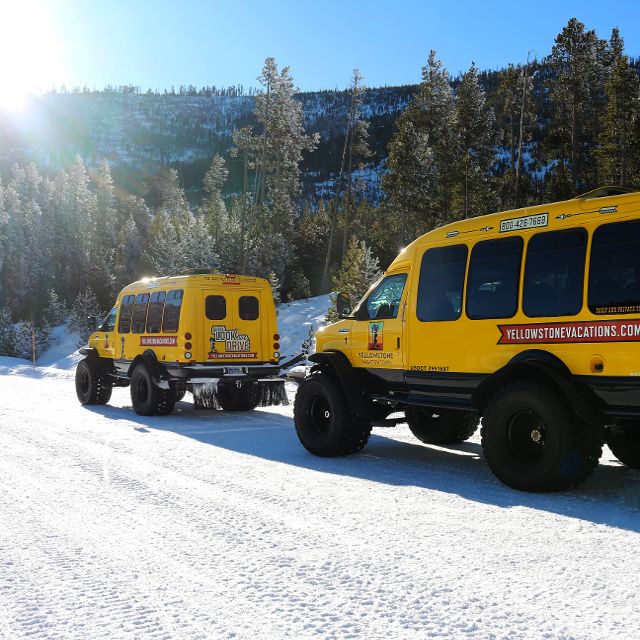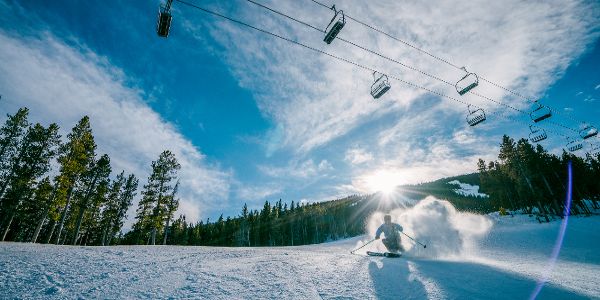 Ski Areas & Resorts
Whether seeking knee deep powder or a nice long groomer, Montana has a long list of skiing and snowboarding options - without the long lift lines. Stay at one of our resorts or choose a basecamp and explore several ski areas on your trip.
Explore