Total Distance
850+
Recommended Length
7 Days
Experiences

Dinosaurs

History

Indian Country
Trip Details
Follow in the footsteps of prehistoric giants and get a fascinating look into some of Montana's most exciting discoveries with day trips to the museums and small towns along the Montana Dinosaur Trail. You can also string your days together for a multiday Dinosaur Discovery Tour. Don't forget to get your Montana Dinosaur Trail Prehistoric Passport stamped along the way!
If you're traveling to Montana by air: Fly into Billings and rent a car at the airport. Or, fly into Bozeman and visit the world-class Museum of the Rockies (another stop along the Montana Dinosaur Trail), explore their Dinosaur Complex and meet Big Mike, a life-size bronze sculpture of a Tyrannosaurus rex. Make this a loop tour and drive back to Billings/Bozeman via Interstate 94/Miles City.
Day 1
Harlowton
Explore the Upper Musselshell Museum and get a look at "Ava" the Avaceratops, ancient sea creatures and more. Other activities in the area include Chief Joseph Park, with a playground, fishing pond, picnic lunch, disc golf (also a great place to camp). You can also stretch your legs on the Smoking Boomer Rail Trail and visit the Harlowton Railroad Depot Museum. Note that as you head out of town north on U.S. Highway 191, you'll see the Judith Gap Wind Energy Center, where 90 wind turbines sprawl out, producing millions of kilowatts of power per year! When it's time to eat, Loco Creek Grill is a family-friendly stop serving breakfast, lunch and dinner as well as specialty coffee and espresso.
Day 2
Choteau and Bynum
The Rocky Mountain Front is home to some of Montana's most scenic landscapes. If you're heading north to Choteau from Harlowton, stop at Freezeout Lake Wildlife Management Area 8 miles south of Choteau—it's a great location for spotting birds, including waterfowl. While in Choteau, explore the Old Trail Museum's Dinosaur Antechamber and get a hands-on education about the area's rich paleontology heritage. Don't miss the delicious food at Copper Creek Coffee, donuts at Bylers Bakery and Montana-made Wilcoxson's ice cream at Old Trail Ice Cream Parlor. Just 15 minutes north of Choteau in Bynum, explore the Montana Dinosaur Center (which offers dino dig programs throughout the summer) and Trex Agate Shop. Overnight back in Choteau at the Stage Stop Inn. You'll also find several guest ranches and campgrounds in the area.
Rudyard and Havre
Rudyard and Havre
Two hours northeast of Choteau in Rudyard, explore the Rudyard Depot Museum and witness their fully articulated Gryposaurus, known as the "Oldest Sorehead." Car buffs will enjoy the collection of antique automobiles at the Hi-Line Vintage Motors Museum. From Rudyard, drive 45 minutes east to the quaint town of Havre, where you'll find the H. Earl Clark Memorial Museum and its 75-million-year-old dinosaur eggs. If time allows, other Havre attractions include Beaver Creek Park, Historic Fort Assiniboine and Wahkpa Chu'gn Buffalo Jump. Fuel up on delicious food at Duck Inn, Nalivka's Original Pizza Kitchen, Murphy's Pub, Guadalajara or Wolfer's Diner. Overnight in Havre at one of several hotel options.
Day 4
Chinook and Malta
Just 30 minutes east of Havre in the little town of Chinook, stop by the Blaine County Museum to see giant marine reptiles and handle fossils of sea creatures from millions of years ago. Other noteworthy attractions in Chinook include Bear Paw Battlefield and the Blaine County Wildlife Museum. Stop for lunch at Chinook Grille or Rad's Deli and Pizza, and don't miss the delicious malts at The Creamery (seasonal). An hour east of Chinook in Malta, explore the Great Plains Dinosaur Museum and the Phillips County Museum. Or, save those two for tomorrow and settle into Sleeping Buffalo Hot Springs for a relaxing soak and an overnight. (If you're interested in a little wildlife watching, note that Bowdoin and Charles M. Russell National Wildlife Refuges are both in the area).
Day 5
Fort Peck
If you didn't get to it all on Day 4, explore Malta museums on Day 5 before heading to the Fort Peck Interpretive Center to see "Peck's Rex," one of the most complete Tyrannosaurus rex skeletons ever found. The lobby features a life-size replica of Peck's Rex and the exhibit hall displays a full-size skeleton cast. Other Fort Peck attractions include Fort Peck Dam & Powerplant Museum, Milk River Observation Site, Fort Peck Summer Theatre and Fort Peck Lake water recreation (like fishing and boating) as well as wildlife watching. Grab dinner at the Gateway Club. Come evening time, set up camp at one of the lake's many campsites (reserve in advance) or rent a cabin at Fort Peck Marina (reserve in advance) and settle in for a night of stargazing.
Day 6
Jordan and Glendive
Fuel up on breakfast at the Fort Peck Marina (breakfast served Saturdays and Sundays) before the 2.5-hour drive to Glendive. (If you're traveling on a weekday, have breakfast in Glendive at Penny's Diner.) Once in Glendive, visit the Frontier Gateway Museum, where you'll find a full-size skeleton cast of "Margie," the Struthiomimus, and fossils from Stegoceras, Triceratops, Thescelosaurus and hadrosaurs. Lunch in Glendive at Gi Gi's Café, and then make your way to Makoshika State Park for badlands exploration and a dino dig with Baisch's Dinosaur Dig. Back in Glendive, grab artisan pizza at Yellowstone River Brewing Co. (closed Mondays and Tuesdays). Other dinner options include Yellowstone River Inn, Los Amigos and The Gust Hauf. After dinner, head back to the park and set up camp (reserve in advance) before a sublime night of stargazing. You can also overnight in Glendive, where you'll find multiple lodging options. (Note: Other activities in the area include Hell Creek Music, The Historic Bell Street Bridge and the Yellowstone River.)
Option: Stop in Jordan on your way to Glendive (1.5 hours from Fort Peck) to visit the Garfield County Museum
Day 7
Ekalaka
Just under two hours south of Glendive, arrive in Ekalaka and visit the Carter County Museum's unique paleontology exhibits and opt for a dino dig (seasonal) followed by lunch at Stompin' Grounds Coffee House. Next, backtrack to Medicine Rocks State Park for hiking and wildlife watching until the sun goes down and the stars come out. Camp below the mesmerizing starry night sky in Medicine Rocks (reserve in advance) or stay in Ekalaka at Red River Inn and Suites. Dining options in Ekalaka include two stops on the Southeast Montana Burger Trail—Dawg House Pub and Wagon Wheel Café, but keep in mind you'll be stargazing late into the evening.
Trip Tip: Plan your trip around Ekalaka's annual Dino Shindig at the Carter Country Museum.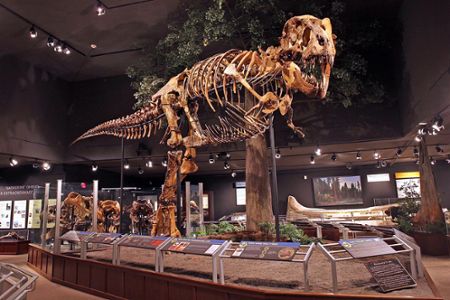 Montana Dinosaur Trail
Walk back in time following the largest footsteps in history. Discover exciting and fun adventure along Montana's Dinosaur Trail. This statewide trail is made up of 14 locations with a wide range of opportunities to explore and learn about Montana's incredible prehistoric residents. Explore some of the greatest paleontological finds of the last century under Montana's big sky.
Explore