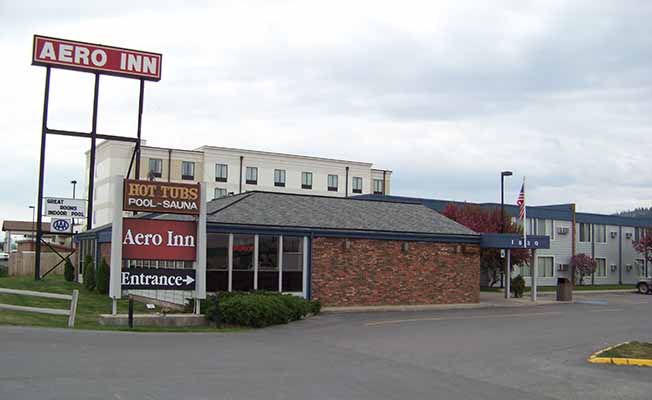 Hotel/Motel
Aero Inn
Address

1830 US Hwy 93 S
Kalispell, MT 59901
View on Map
TripAdvisor
Own or manage this business?
Overview
Service & Activities
Overview
Service & Activities
About
Aero Inn is just minutes from Glacier National Park, Whitefish Mountain Resort and Blacktail Ski Area. The inn has 60 spacious guest rooms, indoor pool, hot tub, sauna, game room, color TV, free continental breakfast, handicapped facilities, free high speed Internet, free local calls, and winter plug-ins for your car. All major credit cards accepted. We offer 24-hour front desk service and phone service. We are located adjacent to the city airport. Land your plane and walk to your room. Restaurants and Main Street are within walking distance. AAA approved.
Contact
MAILING ADDRESS
1830 US Hwy 93 S
Kalispell, MT 59901
Details
PAYMENT METHODS
American Express, Canadian Currency, Carte Blanche, Cash, Diners Club, Discover, Master Card, Personal Check (In State), Personal Check (Out Of State), Travelers Checks, Visa
RESERVATIONS
Reservations Accepted, Walk-Ins Welcome
DISCOUNTS
AAA Discount, Child Discount, Group Discount, Military, Montana State Per Diem, Off Season, Senior Citizens, U.S. Government
SPECIAL DIRECTIONS
The Aero Inn is located at 1830 Highway 93 South. Adjacent to the city airport and minutes from Glacier National Park, the Big Mountain Ski area and Blacktail Ski area. Seven miles from the Glacier Park International Airport.
SERVICES
Air Conditioning
Automated Teller Machine
Breakfast
Business Services
Continental Breakfast Included
Fax Service
Handicapped Accessible
Hot Tub
Indoor Pool
Internet Access Wireless
Kitchen
Major Credit Cards
Meeting Room
Microwave
Non-Smoking
Non-Smoking Rooms
Parking
Pets Allowed
Pool
Public Restroom
Refrigerator
Restaurant Within 2 Blocks
Sauna
Spa
ACTIVITIES
Barbecue
Exercise
Swimming
Walking
See what's nearby
Filter:
Show All
Where To Stay
Things To Do
Food And Drink