The Road Less Traveled
Itineraries for those looking to experience several ski areas and towns in one trip
With empty two-lane highways, pastoral landscapes, charming small towns, 14 ski areas dotting the state and the freedom for whimsical plans, a road trip through the state of Montana is practically an American rite of passage. Every road trip should be different, and in Montana, there's any number of ways to string together a ski adventure in a different location every day while driving some of the most scenic countryside in the U.S. Here are a couple of ideas to get started.
This content was produced in partnership with Powder.
Download the Full Guide
The Missoula...
The gateway to Western Montana, Missoula acts as a great hub and jumping off point for the adventurer, with Missoula International Airport offering nonstop daily flights from 12 major U.S. markets, including Dallas, Chicago, Phoenix, Minneapolis, San Francisco and Atlanta to name a few. More importantly, the 70,000-person town is the home of University of Montana and sits at the convergence of five mountain ranges: the Bitterroot Mountains, Sapphire Range, Garnet Range, Rattlesnake Mountains and the Reservation Divide. Thirteen miles north of town, Montana Snowbowl is an unheralded ski area with loads of snowfall, 2,600 vertical feet of exceptional tree skiing, and one of the best bars in skiing: The Last Run Inn. Start the day hunting powder stashes in Far East and end it with a wood-fired pizza and legendary bloody mary at the bar.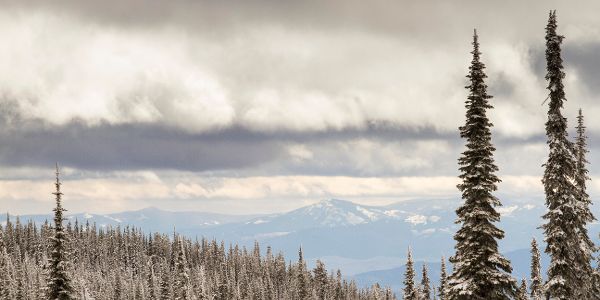 ...Wagon Wheel
A few hours north on the forested Highway 93, overlooking Flathead Lake, awaits another gem: Blacktail Mountain. Closed during the early week, Blacktail hosts weekly Powder Thursdays on its great, low-angle glades. Heading back to Missoula, stop at the Tamarack Brewery and fill up a growler of Lakeside APA. After a fun night toasting quality adventure and skiing, head for Lookout Pass, just over 100 miles west of Missoula, nestled on the Idaho/Montana border. Known for its abundance of snowfall—around 400 inches (that's 33 feet)—and 1,150 vertical feet of playful, mellow terrain, you can ski a whole powder day at Lookout and never cross another skier's tracks. For après, hit the Historic Pass Lodge, the second oldest ski lodge in the Northwest. After every one of these day trips, you'll return to Missoula and find Montana's highest density of amazing craft brewers, plus great local cuisine and unique lodging options.
From the Chic Spot...
For a different kind of ski road trip, head to Montana's hippest town: Bozeman. Home to Montana State University and a thriving spot full of fabulous restaurants, great breweries, and a friendly community of passionate skiers and snowboarders, the 45,000-person town in southwest Montana acts as a fun destination to start the road trip of your dreams. Sixteen miles from Bozeman's Main Street, Bridger Bowl is known for strong family vibes—it's run as a non-profit—and a phenomenon known as the Bridger Bowl Cloud, or BBC. The term refers to the area's tendency to receive spontaneous and abundant snow, which is part of the reason it averages over 350 inches of powder a year. Blessed with technical, nuanced terrain off its fabled Ridge and Schlasman's, that snow tends to stack up. Add the runs of the High Traverse, and Bridger offers some of the most challenging lift-access terrain in the country. After exploring the mountain, pop into the Grizzly Ridge Station, known as "The Griz," featuring cheap beers and warm chocolate chip cookies.
...To the Classic Capital
Next, drive two hours north to the state's oldest ski area, Showdown Montana. Founded in 1936, the ski area has three lifts, 640 skiable acres, 1,400 vertical feet, and far fewer leather ski boots. With 20 feet of annual snowfall, the tree skiing below King's Ridge—Dynamite, Gun Barrel and Glory Hole—can be all time. Rest those joints at the Spa Hot Springs Motel, which uses mineral-rich local spring water famed for its restorative powers. Afterward, head to 2 Basset Brewery (named for a couple of hounds, called Stanley and Leroy), where the brewery uses hops from the local Meagher Valley. The next day, head west to Montana's classic capital city, Helena, and Montana's sunniest place to ski, Great Divide Ski Area. Weekday lift tickets are just $40 and get you access to the sporty terrain in the Big Open, Bull Chutes, and the tree skiing off the Wild West Chair.