LARGEST SKI RESORT
MONTANA'S BIG SKY RESORT IS ONE OF THE LARGEST (AND ONE OF THE PRETTIEST SKI RESORTS!)
There is no shortage of beautiful mountains to ski in Montana, but there's only one Big Sky Resort. It's 5,800 acres of pure winter bliss on Lone Peark --and if you're an avowed ski bum, there's no better place in Montana to hit the slopes. With miles upon miles of trails for every experience level, and plenty of speedy, state-of-the-art lifts to keep things moving, you can eaisly spend days exploring Big Sky on your skis or snowboard.
TONS OF ROOM
The resort is utterly massive, so no matter the day, you can rest assured that you'll have tons of room on the slopes--it'll feel like you have the mountain all to yourself. Other features that make Big Sky the ultimate destination for hardcore skiers include the 400 inches of snow the area receives each year, the 300 named runs spanning 4 connected mountains, and the wide variety of opportunities for skiers of every skill level.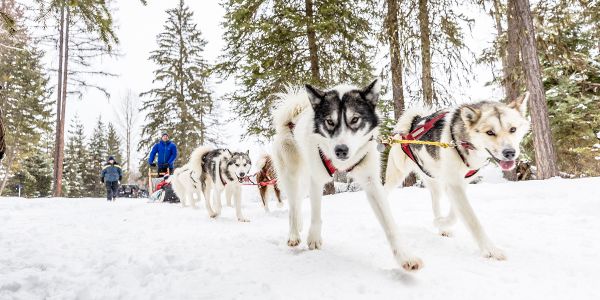 IF YOU DON'T SKI
Even though the resort has a reputation for being a haven for hardcore skiers, they also offer plenty of to do for those who are less sure on skis-- they provide, zipline tours, guided snowshoe hikes, ropes courses, giant swings, sleigh rides, dogsledding, snowmobiles, and more to entertain just about everyone. And you can always unwind at the resort's spa, or in one of their many restaurants (which include two microbreweries, coffee shops, and a rustic sleigh ride dinner complete with cowboy tunes and prime rib, among others). And whether you're staying in a hotel, a cabin, or a chalet, you'll love immersing yourself in that classic rustic, cozy ski resort atmosphere.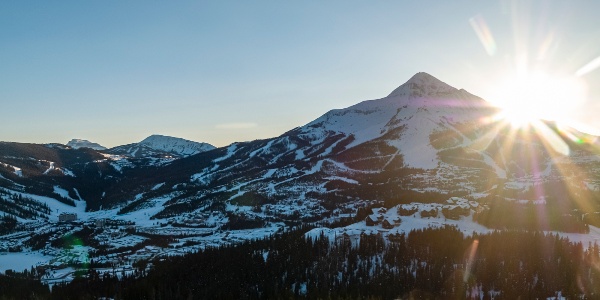 LONE PEAK
But, even with all the things to see and do at Big Sky, the crown jewel of the resort has to be the legendary Lone Peak Tram. Built to take the most extreme skiers to the very top of Lone Peak for an adrenaline-pumping ride to the bottom of the mountain, it was no easy task to build. They were essentially doubling the size of the resort, adding over a thousand acres of terrain, and it took 3,000 helicopter flights, plus disassembling and re-assembling heavy construction equipment for transport up the mountain, as well as over a year's worth of work to get it up and running!
But it was well worth the effort. The ride offers 360-degree panoramic views into three states and two National Parks-- and the only thing more thrilling than the ride up is skiing back down. Fun fact: the inside of the cabin was originally painted to pink to calm down nervous riders-- a testament to how intense the ski journey back down is!