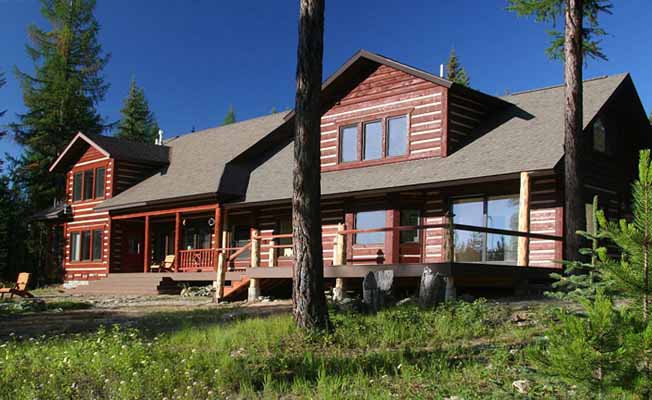 Cabin
Lupine Meadow Lodge
Overview
Service & Activities
Overview
Service & Activities
About
This 1750-square-foot (guest space) custom-crafted cabin was completed in January of 2002 with an addition added in recent years for both expanded guest and private usage. This rustic lodge feel is enhanced by a new and very large see-through fireplace, created using beautiful local rock and an expanded area for reading or relaxing and watching a DVD on a new flat screen TV. Outfitted with many hand-peeled log accents and rustic iron work, this upscale cabin evokes the feeling of the great camps of decades gone by. The lodge also offers the modern convenience of wireless internet if you feel the need to "stay connected." Located in a meadow of wildflowers, Lupine Meadow Lodge has unsurpassed views of the peaks of Glacier National Park. With many windows and four decks, you will have ample opportunity to relax and appreciate the beauty. The cabin is surrounded on three sides by National Forest and no other structures or roads are in sight. As the North Fork is so remote and pristine, this high-tech cabin provides its own electricity from a generator and solar panels. Lupine Meadow Lodge is located in the North Fork Valley of the Flathead River in Northwest Montana. The North Fork is designated a 'Wild and Scenic River' and its beauty is startling. The cabin is located on the western border of Glacier National Park and is six and one-half miles north of the small outpost town of Polebridge. This picturesque town is comprised of a Mercantile which has basic provisions and a renowned bakery, The Northern Lights Saloon (restaurant and pub), a couple of hostels for lodging, and approximately 40 residents. The Northwest entrance to Glacier National Park is accessed through Polebridge and is only about 8 miles from the cabin. The North Fork is a special place and a true back country enthusiast's paradise. Known as America's last true wild lands, the North Fork is home to abundant wildlife including grizzlies, gray wolves, moose, elk, deer, mountain lions, snowshoe rabbits, bald eagles, and hawks. There are many outdoor activities including excellent fishing on the North Fork River or the nearby mountain lakes and streams, hundreds of miles of trails, and old logging roads on which to hike and mountain bike. Lupine Meadow Lodge also provides excellent access to Glacier National Park. Whether your desire is to get away and relax, or to make the most of the back country, Lupine Meadow Lodge will be sure to make your vacation remarkable. The lodge has a bedroom downstairs with a queen bed and a bath with a shower. There are two bedrooms upstairs with a queen bed in the master and two twin beds in the other. The bath upstairs has a tub/shower combination.
Contact
MAILING ADDRESS
PO Box 1612
Pleasanton, CA 94566
Details
PAYMENT METHODS
Paypal, Personal Check (In State), Personal Check (Out Of State)
RESERVATIONS
Late Cancellation Fee, Reservations Required
DISCOUNTS
Military, Off Season
SPECIAL DIRECTIONS
Location: Lupine Meadow Lodge is located in the North Fork Valley of the Flathead River in Northwest Montana. The lodge is 1 mile west of the North Fork River, 7 miles from the Polebridge entrance to Glacier National Park and 32 miles northwest of the West Glacier entrance. Directions: From the Glacier Park International Airport (Kalispell), take Highway 2 to Columbia Falls and turn left onto Nucleus Avenue. Take Montana Highway 486 (North Fork Road, gravel and paved) 42 miles north to the cabin, which is located 6.6 miles north of Polebridge, Montana.
SERVICES
Books
Fireplace
In-Room Movies
Information
Internet Access Wireless
Kitchen
Laundry
Music
Non-Smoking
Parking
Refrigerator
ACTIVITIES
Bicycling
Bird Watching
Board Game
Canoeing
Climbing
Fishing
Fly Fishing
Hiking
Horseshoes
Kayaking
Lake Fishing
Nature
Photography
River Fishing
Walking
Wilderness
Wildlife Viewing
See what's nearby
Filter:
Show All
Where To Stay
Things To Do
Food And Drink