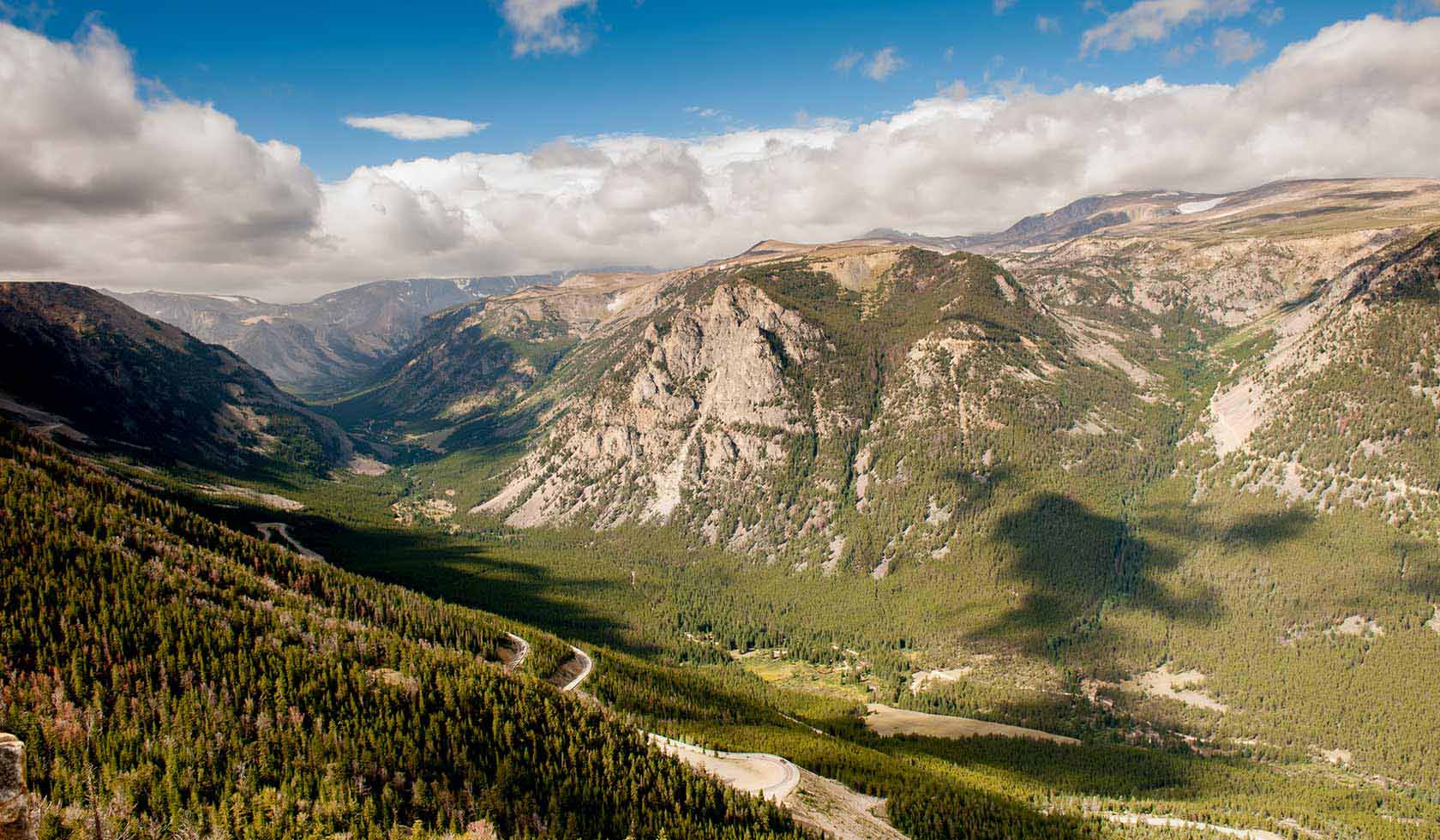 Wilderness Area
Absaroka-Beartooth Wilderness Area
Overview
Service & Activities
Overview
Service & Activities
About
The Absaroka-Beartooth Wilderness Area, covering 920,310 acres, is an administrated unit of the Gallatin National Forest, Custer National Forest and the Shoshone National Forest. The Absaroka-Beartooth Wilderness derives it's name from the Absaroka and Beartooth Mountain Ranges. The Absarokas are named after the Crow Indians (Absaroka being the Indian name for Crow). The Beartooth Mountains were named after the likeness between a jagged mountain peak in the range and a bear's tooth. To the west lie the Absarokas characterized by stratified volcanic and metamorphic rocks forested valleys and rugged peaks. The Absarokas form a chain of mountains that includes the spectacular peaks east of the Paradise Valley between Livingston and Gardiner the northeastern corner of Yellowstone Park Pilot and Index Peaks south of Cooke City and the North Absaroka Wilderness in Wyoming. The Absarokas are home to a variety of wild animals notably the threatened grizzly bear. The eastern side of the wilderness is dominated by the high granitic plateaus of the Beartooth Mountains. Hundreds of lakes lie among the bald rock and alpine tundra of the plateaus. This country is starkly beautiful but extremely fragile with unpredictable changes in weather. Wildlife that you may see includes moose, mule deer, mountain goats and bighorn sheep. The wilderness visitor can view many unique geologic features in the Absaroka-Beartooths as well. From the mountain peaks, glaciers, tundra plateaus, lakes, and basins of the high elevations to the midslopes and deep canyons and valleys below, the Absaroka-Beartooth offers scenic panoramas. The visitor may prefer the views of the ragged rock peaks and sheer rock walls that plunge to talus slopes and canyon bottoms in the Beartooths, or perhaps the Absarokas will be more appealing where the dense forests at the lower elevations contrast nicely with the many intermingled mountain meadows before giving way to alpine meadows and patches of subalpine forest. Primitive camping is allowed with no public facilities. Call Gallatin National Forest for further information on recreation opportunities and special instructions.
Contact
MAILING ADDRESS
3710 Fallon Street, Suite C
Bozeman, MT 59718
SPECIAL DIRECTIONS
The Absaroka-Beartooth Wilderness can be accessed from many locations from Cooke City to Red Lodge, Please consult an Absaroka-Beartooth map available at any ranger station in southwest Montana.
ACTIVITIES
Backcountry Camping
Bird Watching
Bow Hunting
Camping
Climbing
Cross-Country Skiing
Elk Hunting
Fishing
Hiking
Horseback Riding
Hunting
Photography
Snowshoeing
Wildlife Viewing
See what's nearby
Filter:
Show All
Where To Stay
Things To Do
Food And Drink