Total Distance
240 miles
Recommended Length
4 Days
Experiences

Road Trips

Wildlife Watching

hiking
Trip Details
Grab your binoculars! Visit some of Central Montana's most charming small towns and enjoy wildlife watching on the stunningly scenic Rocky Mountain Front.
Day 1
Fort Benton
Just 30 minutes north of Great Falls begin your day at Benton Lake National Wildlife Refuge. The refuge is home to 28 mammal species, including deer and pronghorn, and it's a prime location for viewing water birds, especially during spring and fall migrations. Make sure to take the Prairie Marsh Wildlife Drive. There's also a marsh boardwalk and a sharp-tailed grouse viewing area. From the refuge, drive to the historic town of Fort Benton, which was the last inland port on the Missouri River, and visit the Museum of the Northern Great Plains, if time allows. Grab dinner at The Public House or Union Grille. Afterward, visit the Shep Memorial and take a peaceful stroll along the Missouri River. Overnight at the Grand Union Hotel.
Day 2
Great Falls
Grab coffee and a delicious breakfast at Wake Cup Coffee House in Fort Benton before the drive to Great Falls. In Great Falls, choose your own adventure: Take a falls tour and visit The Great Falls and Ryan Dam from Ryan Island Park as well as Crooked Falls, Rainbow Falls, Colter Falls and Black Eagle Falls and Dam. You can also explore Giant Springs State Park and the fish hatchery as well as the Lewis and Clark Interpretive Center and the C.M. Russell Museum. Begin your evening with small bites and a local brew at Annie's Taphouse. Grab dinner at Enbar, Smoked American Barbeque, Clark & Lewie's or Fire Artisan Pizza. For an authentic Great Falls experience, overnight at the O'Haire Motor Inn and don't miss the "world-famous" Sip 'n Dip, a tiki lounge where mermaids swim.
Day 3
Augusta and Choteau
Grab breakfast in Great Falls at Crooked Tree Coffee, Tracy's Family Restaurant or Double Barrel Coffee House Café before driving to the exceptionally scenic Rocky Mountain Front. Begin your day at Freezeout Lake Wildlife Management Area for wildlife viewing including upland game birds and raptors in the winter, waterfowl migrations in spring and fall (300,000 snow geese and 10,000 tundra swans), and waterfowl and shorebirds in summer. Just past Augusta, visit the Sun River Wildlife Management Area and enjoy the landscape along one of Montana's most scenic rivers. While in Augusta, grab lunch at Lazy B Bar and Café or Allen's Manix Store, where you'll also find an array of Made-in-Montana huckleberry items. Also, don't miss a visit to the Latigo and Lace boutique and espresso bar. From there, make your way to Choteau, where you might spot herds of elk, whitetail and mule deer, grizzly and black bears, wolves, and perhaps even a moose. Overnight at the Stage Stop Inn, home of the Livery Saloon.
Day 4
Choteau
Fuel up on coffee and breakfast at Copper Creek Coffee in Choteau. Head out about 20 miles east toward Ear Mountain and visit the Nature Conservancy's Pine Butte Swamp Preserve, where you'll find grizzly bears as well as dozens of other mammal species, like beaver, muskrat, mink, elk, moose, mountain lion, bobcat, lynx, black bear, mule deer and bighorn sheep, as well as about 200 species of birds. Hike the A.B. Guthrie Trail (off Bellview Road) for a great view of the swamp. Next visit Ear Mountain Wildlife Management Area (please note, the Wildlife Management Area is closed to all visitation from the end of the big game hunting season until May 15 each year), then head north to Blackleaf Mountain Wildlife Management Area. (Note: Between December 1 and May 15, vehicle travel is prohibited within the refuge borders. From May 15 to July 1, the road to Antelope Reservoir is open to foot traffic only.) Grab dinner and an overnight back in Choteau.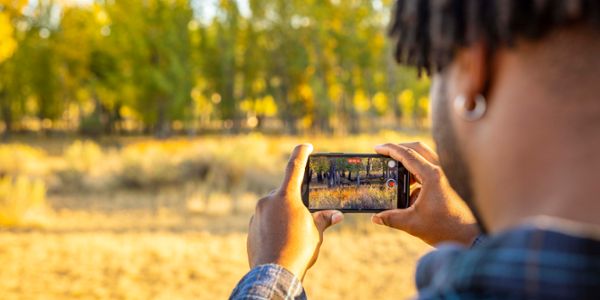 Wildlife Safety
Keep yourself and those around you safe, and also keep Montana's wildlife safe—this is their home, too. Maintain a safe distance when encountering animals in the wild (100 yards from bears/25 yards from all other mammals). Do not approach, touch or feed wildlife, and always "talk loudly and often" in bear country so they know you're nearby and they do not become startled. Carry bear spray and know how to use it, hike and camp in designated areas and store food and garbage properly.